Why Businesses Should Be Rate Shopping
Shipping can often be an overwhelming process. With so many different types of carriers, rates, services and regulations, it's easy to understand why many customers opt to choose the first carrier that comes to sight without really doing the research to find the best rate. While it may be more time efficient to settle with the first adequate carrier, a more cost-efficient way to ship packages is through rate shopping.
Rate shopping is the process of comparing different carriers-- such as UPS, FedEx and USPS--to find the cheapest shipping rate for the same delivery experience. This means that instead of immediately choosing one carrier, you research several different carriers, delivery formats and service levels to find the lowest rate that still delivers the package by the expected delivery date.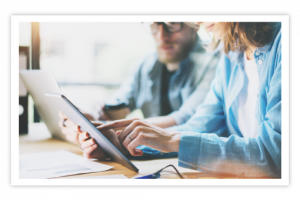 Rates are dependent on various characteristics, such as dim weight, fuel charge, residential surcharges, freight class, and unit types, all of which carriers charge different prices for. By strategically researching and prioritizing these components, customers can avoid high margin loss when they pick the cheapest possible delivery service. In fact, rate shopping has been accredited to reducing shipping costs by up to 30%. In addition to increasing company profit, money saved in shipping relations can also increase customer acquisition rates. By providing the cheapest shipping rates, businesses are better able to maintain a competitive edge through marketing shipping, such as offering free shipping to increase eCommerce sales.
Furthermore, rate shopping can enable reconciliation. Because rate shopping allows you to explore all hidden costs before picking the ideal shipping rate, freight bill reconciliation becomes much easier. Especially in companies that ship in large volumes, it may tedious and almost impossible to keep track of all the extra charges on each shipment invoice. Companies can then often lose money when they don't have the time or energy to find out where parts of their budget have been unknowingly spent. Rather than worrying about additional charges that weren't seen or why initial quotes didn't match the payments, with rate shopping, it becomes clear where every little shipping cost is coming from.
While rate shopping is extremely cost-efficient for low volume companies, it can also be a very time consuming process, especially for businesses that ship in high volumes on a daily basis. A solution to this is to consider shipping software, such as ShipHawk. ShipHawk's multi-carrier rating software rates over 250 parcel, LTL and speciality carriers and automatically selects the right carrier and service for each shipment in real time. By investing in shipping software that allows you to rate-shop in real time without needing to manually research each individual carrier and item, businesses are still able to increase margin profits and improve bill reconciliation in a much shorter amount of time.