What is Order Fulfillment, and How Can You Optimize it?
---
What is order fulfillment?
Sounds like a straightforward question, right? But you'd be surprised how little agreement there is among businesses — even those that ship hundreds of packages every day — about what order fulfillment actually entails.
In fact, before reading any further, test yourself. How would you answer the question, "What is order fulfillment?" (Hint: Think of the process as broadly as you can.) Check your answer against the detailed description of order fulfillment below. (No peeking.)
Few businesses agree on a single definition of order fulfillment
When we pose the question to the businesses that approach us for shipping automation solutions, we are always surprised at how much their definitions vary.
Some businesses view order fulfillment simply as the shipping process. Others describe it as packaging and shipping — better, but still far from a complete definition.
What's also surprising is how few businesses understand the wide range of options available to them at every step of the order fulfillment process — and as you'll see below, there are many steps, covering many areas of your business. Because they don't have full visibility into every stage of the process, many businesses are missing opportunities at almost every stage to optimize order fulfillment and save money.
We'll discuss all of these steps in detail below, as well as offer you tips for reducing the costs you're likely incurring for many of the steps in the process. First, though, here is a useful working definition of order fulfillment.
---
Order Fulfillment - The Real Definition
Order fulfillment represents every step of the process — both backend and customer-facing — from the time an order is placed until the delivery is made and your team reconciles the carrier's invoice.
---
With this definition in mind, you can see how in reality order fulfillment touches could include far more costs than you've realized. You can also see how the fulfillment process touches virtually all areas of your business — not only your operations and eCommerce teams but also your finance, marketing, customer service and IT departments as well.
What steps does order fulfillment actually entail?

Now let's review a complete order fulfillment cycle, which we've broken into 10 steps. You can click on each of these steps to get more information on what's necessary to complete them.
Step 1: Order is placed

Order fulfillment actually begins with a customer placing the order because at this stage, your company will — or at least should — have already begun your end of the process.

For example, before your customer placed the order, she should have been able to view a list of shipping options — varying according to time-to-delivery, additional services (e.g., installation or white-glove service), and of course shipping costs. Your customer at this pre-order stage should also be able to see your company's return policy and any other terms or agreements you offer.

In other words, by the time your customer places an order, your fulfillment process is well underway — and already involves your operations, finance, customer service and other teams.
Step 2: Order contents are identified

After you've accepted the order, your team now has to identify the contents of the order, determine where they are located and print out those details.

Like most steps in the order fulfillment process, your options here vary significantly. You can use an entirely manual process, where the warehouse team will have to identify and locate the contents and print pick slips and labels. Or you can implement varying levels of automation — all the way up to an AI-based shipping solution that automatically prints all details and locations of all items in the order.
Step 3: Order is picked

Next, it's time for your team to actually pick the order's items from the shelves.

Again, you have a wide range of options at this step — from entirely manual, the most expensive process but the default for most shippers, to fully automated, which can greatly reduce overall costs but few businesses even know is available to them.

At the fully manual end of the spectrum (which most shippers still use), items can be manually confirmed by your warehouse team physically checking them against the list. On the other end of the spectrum — using an automated solution — you can actually generate the pick list on a mobile device and then scan items for confirmation.
Step 4: Order container is selected

With your order's items picked and confirmed, now it's time to find the right packaging. As you can imagine, this is a step where many shippers inadvertently spend far more than they should.

In some cases, an operations team incorrectly estimates the size and weight of an order and selects a larger-than-necessary box. In other cases, the team simply grabs whichever box is closest without consideration to cost. And in still other cases, warehouse staff selects suboptimal (or even disallowed) packaging for the carrier or shipping service tied to the order, which causes delays and possibly additional costs.

As with all of the other steps in this process, box selection should ideally be automated — allowing an intelligent software platform to factor in dimensional weight, carrier requirements and other details to identify the optimum packaging.
Step 5: Order is packed

After the box or other type of packaging has been selected, the next step is to pack the contents of the order.

This will require several additional decisions — which packing materials should be included to protect the order, how much of these materials should be used, and which materials if any will qualify the shipment for the carrier's insurance.

And this is yet another step where most businesses simply eyeball the problem and make a best guess — meaning they cannot effectively predict this component of their true costs, and that they are likely often spending more than necessary on a given shipment.

The order-packing stage, therefore, should also be automated — with an intelligent shipping-automated software platform that programmatically assigns and measures packing materials to each order, taking into account cost analysis as well as how the additional materials will affect the dimensional weight.
Step 6: Shipping carrier and service is selected and label is printed

Many businesses manually searching through a list of available carriers based on their package's details. Of course, this is the least efficient method of carrier selection — both in terms of warehouse-team labor and the lack of a systematic approach to identifying the best and most cost-effective carrier to fulfill each order.

The best practice here — you guessed it — is to deploy an automated solution that will programmatically apply your preset business rules to select the best carrier each time.
Step 7: Order is staged and the carrier is dispatched

After you have selected a carrier, you must enter the order details into the carrier's system so they know when the shipment will be available for pickup.

Here again you have a wide range of process options. You can handle this step manually —contacting the carrier directly every time you have a shipment ready for them. Or you can automate the process, by using your shipping-automation software's API to connect with all carriers' backend systems — meaning when your order is ready, the software will automatically alert the carrier.
Step 8: Order is picked up by carrier

For this step your team will need to keep lot of carrier data handy — the company's linear foot rule, the truck's cubic capacity, the amount of grace period (if any) your warehouse team will have if the order is not ready when the carrier arrives, etc.

Although you cannot quite automate this step — your warehouse team or third-party fulfillment provider will have to perform some manual work for both this step and the previous one, staging the order — shipping automation software can still assist tremendously here. It can automatically alert your carrier to any changes in shipment volume. It can give you a quick view of all of the relevant data — cubic capacity, linear foot rules, etc. — so you're properly preparing for every pickup and so on.
Step 9: Order data is returned to ERP and/or customer tracking software

As soon as you accept your customer's order, your responsibility for keeping them updated on the order's status begins.

Indeed, you might also want to think of this as step 1.5 in the order fulfillment cycle —because your customer should be able, at any time after placing their order, to check on its status and find out that it's "In processing," "Being packaged," "On its way to our Distribution Center," etc., as well as your estimated delivery time.

Here, again, your options range from fully manual, to partially automated, to fully automated. The costliest and least efficient method of updating your tracking status details is to have someone on your team manually enter this information — because the software you use to manage shipping isn't integrated with your ERP or warehouse management system.

At the other end of the spectrum — the best practice here, both in terms of streamlining your own backend processes and delivering your customer the best possible experience — is to use a shipping automation platform that integrates completely into your ERP system and can therefore automatically offer tracking and order status reports to customers.

With the right solution, in fact, you can keep your customer tracking notifications — online, via email, via text, etc. — branded by your company, so you control the experience, rather than handing your customer over to the carrier every time they want an update.
Step 10: Carrier's invoice gets reconciled

Your order fulfillment process isn't truly complete until your company has received, processed and reconciled the carrier's bill for successful delivery. And when you operate your order fulfillment process on a manual, ad hoc basis, this can be a time-consuming and costly step — because often your final shipment invoice won't match the carrier's quote.

Why does this happen? Because when your team executes the earlier steps in the process — estimating dimensions and weight, selecting boxes and additional packing materials, choosing a carrier and service — without an automated system, they can make mistakes, mistakes that can lead to carriers charging more for the actual delivery than they estimated in their quote.

To avoid this problem, and to avoid consuming your accounting team's time questioning carriers over added charges or other issues with invoices, the best practice is to deploy a shipping automation platform that takes all of these factors into account upfront and stores a record of them — along with the carrier quote — for fast reconciliation when the bill comes in.
Order fulfillment: At least 10 places you could be optimizing operations and saving money
As you can see, a comprehensive view of order fulfillment reveals this is a major component of your business's operations — and there are many steps in the process where your company could likely save time, labor and money by optimizing.
Another way to think of the step-by-step view we've walked you through about is that automated order fulfillment represents 10 opportunities to optimize your operations and reducing your company's costs.
By the way, for an even more detailed look at the order fulfillment cycle, as well as additional suggestions for best practices at many of these steps, read our article on shipping's soft costs.
How do dropshipping and third-party fulfillment services play into order fulfillment?
Some companies investigating automated shipping solutions ask us whether their dropshipping arrangements, or their arrangements with third-party fulfillment houses (sometimes called a "3PL" for third-party logistics), can benefit from shipping management software.
Short answer: Yes, assuming the merchant maintains its own accounts with carriers.
In case you're unfamiliar with these arrangements, dropshipping is a process where the retailer neither creates nor stores its own products but instead sells the products of a manufacturer or another retailer — and then buys the products at a discount and transfers the orders and shipment details to its dropshipping partner — which could be the manufacturer, a wholesaler or another retailer. That partner then delivers the order directly to the customer.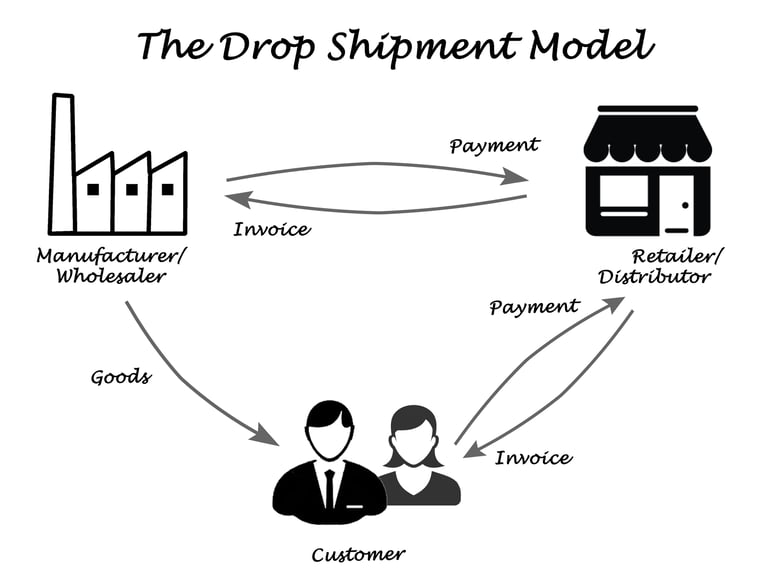 Third-party fulfillment, by contrast, is a process where a merchant typically sells its own products but does not store or ship its own inventory. Instead, similar to the dropshipping method, the merchant transfers its customer orders and shipment details to it's a third-party fulfillment service, which then delivers the order to the customer.
In all of these arrangements — merchant fulfillment, third-party fulfillment and dropshipping — the order fulfillment process can often be significant streamlined and made more cost-effective by automating many of the steps in the process.
Conclusion: The solution to streamlining and saving money on order fulfillment is shipping automation software
Even professional third-party fulfillment houses often make many of the mistakes we've discussed in this post. They fail to systematize many of the steps in their order fulfillment. Their warehouse teams guess about a shipment's weight and dimensions. They select suboptimal boxes and use the wrong packing materials. They fail to identify the best carrier or service for a given shipment.
You can take two important lessons from the fact that even professional shipping businesses are in many cases operating with less-than-optimal order fulfillment processes.
First, even if your company outsources part of your order fulfillment to a third-party provider, you can still optimize the process — and save money — by working with your provider to automate their processes.
Second, if those professional shipping providers have room to improve many of the steps in their own order fulfillment infrastructure — to speed the process, lower labor costs, reduce human errors and save money — that almost certainly means your company can find similar time- and money-saving ways to improve your order fulfillment.
One final thought: Streamlining your order fulfillment operation doesn't require a separate technology solution to be implemented at every step in the process. In fact, you can realize all of the optimization and cost savings we've discussed in this post — as well as other benefits we describe in our shipping's soft costs blog — by deploying a single, comprehensive automated shipping platform. Contact our team today at sales@shiphawk.com to learn more about ShipHawk's comprehensive automated shipping platform!