Ground Shipping
When shipping domestically, ground shipping is usually the most cost-effective and flexible method of getting your package to your door. Ground shipments are generally forwarded through freight services such as FedEx and UPS, which route smaller and larger trucks across the country to ship and deliver your products. Ground shipping will typically take more time to arrive than products shipped via overnight or second-day air because freight trucks stop at various distribution centers across the country to drop off and pick up multiple shipments. With ground shipping, time to delivery is purely a function of the location between the sender and the receiver.
Below is an example of UPS shipping times for a package that is being ground shipped from California: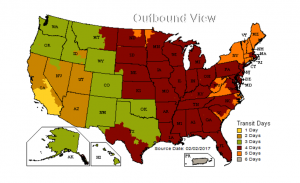 And FedEx follows the same general timeline for their ground shipping rates: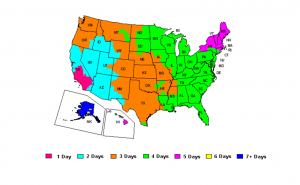 The price of ground shipping will vary across freight carriers, but let's compare the rates this year vs. last year's between both UPS and FedEx to give us a general overview. The shipping rates at UPS and FedEx have recently changed with the beginning of the new year, so it's important to recognize the costs and adjust any pricing changes you may need to make in order to match your personal or business shipping needs.
Effective January 2017, UPS and FedEx ground shipping rates will both increase by about 4.9%. For example, sending a package with 10 x 10 x 10 dimensions headed within two zones (150 miles) will incur the following costs as compared to last year's rates:
| | | |
| --- | --- | --- |
| | 2016 | 2017 |
| Dimensional Weight | 7 pounds | 7 pounds |
| Cost | $8.81 | $9.22 |
Of course, there will be some variation in these rates between the two companies, but the general increase means that shippers should try and minimize the size of their shipments in order to avoid paying more for ground shipping. As carriers like FedEx and UPS move more towards utilizing a dimensional weight calculator to price their shipments, businesses should pay greater attention to the dimensional weight of their packages in order to cut costs. Especially if businesses ship in large volumes, a great way to continuously optimize dimensional weight is by utilizing shipping intelligence software, such as ShipHawk. With the use of such software solutions, businesses can find the best shipping rates without having to go through the hassle of searching through different carriers manually and continue to optimize profit margins off of ground shipping.