Weekly Logistics Report
This week's update contains two article summaries:
UPS imposes volume restrictions as eCommerce continues to boom

Will returns and exchanges be a problem in 2021?
UPS imposes volume restrictions as eCommerce continues to boom
Summary
UPS imposes volume restrictions on six large retailers including Gap and Nike

Volume restrictions may affect smaller retailers in the future
Commentary

This month, UPS imposed volume restrictions on large retailers including Gap and Nike in the United States. This is one of the few indicators towards a logistics ecosystem stretched to its limits. UPS notified their delivery truck drivers across the nation on Cyber Monday to stop picking up packages from six retailers with "no exceptions" - confirmed by UPS workers in different regions. These restrictions have never occurred in previous holiday seasons, showing that UPS is controlling the flow of packages into its network to maintain its delivery performance during this busy shipping season exacerbated by COVID. Although these changes do not directly affect ShipHawk's customer base, it soon will if the logistics landscape doesn't adapt quickly enough to the changes in consumer habits.
Similar to the carrier surcharges, the volume restrictions may eventually affect all shippers, not only the high volume shippers. If shippers do not have the infrastructure to route shipments to alternative carriers when their primary carrier isn't available, their distribution operations will stagnate. Therefore, it is critical that shippers have a vast network of carriers to ship that are managed by business rules.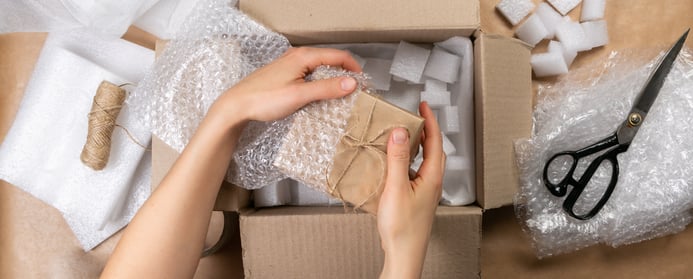 Will returns and exchange be a problem in 2021?
Summary
Holiday eCommerce sales projected to reach $234B, far surpassing 2019

Online shoppers highly value return policies that are costly to merchants
Commentary
eCommerce generated $168B in sales in December of 2019. This year, that number is projected to hit $234B with $70B returned to merchants. According to the 3PL Optoro, 42% of shoppers will stop shopping with a retailer if they have a negative return experience. With the continued growth of the eCommerce industry, many companies will need reverse logistics infrastructure to streamline returns, lower costs, and ensure customer satisfaction.
Research conducted by Narvar shows 41% of online shoppers buy variations of the same product with the intent of returning. Data from Dotcom Distribution suggests 90% of online shoppers "highly value" free returns and 62% "would buy again" from a brand offering free returns. Unfortunately, these data points oftentimes leave merchants feeling helpless because customers want free returns that are extremely costly for merchants. eCommerce giants are able to accommodate that. Zappos is one that offers lenient returns policies as a strategy to keep customers happy so that they return to spend more. Smaller independent merchants are hit harder by this strategy as they do not have enough capital to sustain losses to realize gains down the line.
The future of the logistics landscape may soon be more than inbound and outbound shipments. As eCommerce transactions increase throughout the United States, returns and exchanges will become a substantial issue that merchants will need solutions for. Take Returnly as an example, a solution that fronts the money to consumers to shorten the time between returned goods and money in the bank. Returnly recently raised a $3.2M seed round led by Index Ventures validating that there will likely be a huge market for returns and exchanges in the coming years.