Weekly Logistics Report
This week's update contains two article summaries:
Crippling warehouse worker shortage for independent businesses as Amazon is hiring everyone

What is more important when considering fulfillment software: price or value?
Crippling Warehouse Worker Shortage for Independent Businesses as Amazon Hires Everyone
Summary
Amazon is offering warehouse workers $3,000 sign-on bonuses

Companies must look to automation to address the difficulties of hiring for warehouses
Commentary

Amazon is ramping up their warehouse hiring efforts, and smaller businesses are feeling the tightening grip. According to a recent article by Bloomberg, Amazon is rewarding their holiday working warehouse employees with up to $3,000 sign-on bonuses. Smaller companies are finding it increasingly difficult to find employees to operate their warehouses over the holidays.
According to Indeed.com, website searches for seasonal positions decreased 25% from 2019, despite a higher unemployment rate compared to the former year. Hiring for low paying positions is not easy for employers. One way Amazon decided to circumvent the issue is to provide monetary incentives for people to work at their warehouses over the holidays - hence the $3K signing bonuses.
The fact that Amazon is spending so much money to recruit new hires during the holiday season shows that there is a shortage of warehouse employees to accommodate the high demand for eCommerce fulfillment. Unlike Amazon, smaller businesses do not have the resources to incentivize new hires with thousands of dollars.
Companies who do not have the means to provide huge monetary incentives to hire more during the holiday season should look to automation to help increase productivity without additional headcount. Without automation, problems like the holiday rush can cause smaller companies to fall behind the curve and risk losing out to their competition.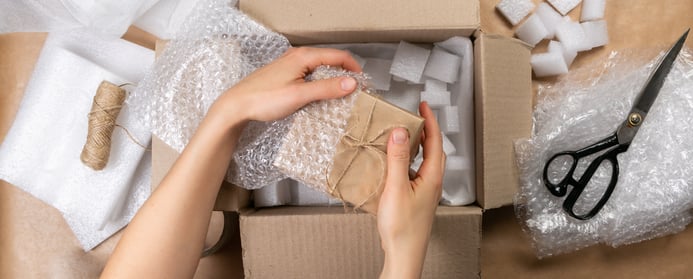 What is More Important When Considering Fulfillment Software: Price or Value?
Summary
Companies scrutinize price but forget about the value of a solution

High-value solutions help avoid headaches
Commentary
Many companies focus too heavily on the price and not enough on the value of a fulfillment solution when making purchasing decisions. Companies who are blindsided by an attractive price tag often find themselves in a rabbit hole of issues after the purchase because they hadn't considered the true costs of owning inexpensive fulfillment solutions.
Cheap fulfillment solutions lead to problems. Either the vendor of the inexpensive solution nickel and dimes you for additional features, or the software doesn't work the way you were promised. It is vital that you factor the "hidden" costs associated with these issues into the equation when making a purchase. Although it's not always true that most expensive fulfillment solution provides the most value, it's important to remember you get do what you pay for as a general rule.
Clients who swapped their incumbent TMS for a different software often mention the "hidden" costs that were associated with the basic shipping software. At high-quality shipping software providers, value will justify the price of solution. For instance, transparent sales processes, stellar customer support, and features like real-time data analytics or accessible APIs can create this value at high-quality providers.
To learn more about fulfillment services that will enable your operation to scale, schedule a call today!