A Practical Guide to Choosing the Postal Service's Most Cost-Effective Service for Each of Your Shipments
---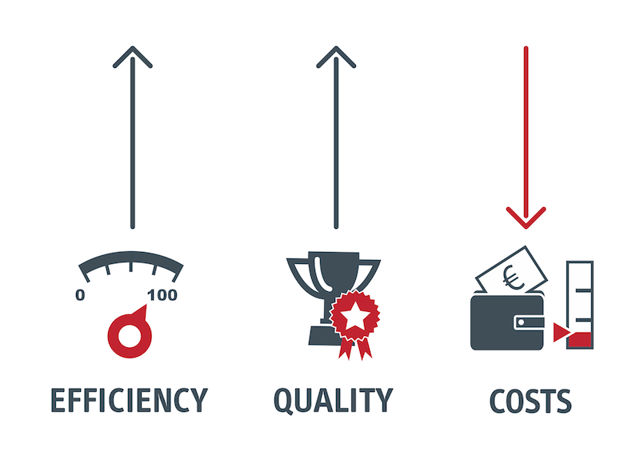 If your business is like most, shipping probably represents one of the most ad-hoc and least strategically planned aspects of your operations.
This is understandable: Shipping seems like an entirely
reactive
step in your process. Every time an order comes in (which may happen dozens or even hundreds of times per day), your team has to
react
to that order and all of its unique characteristics. They have to select the right package, choose the most logical carrier to deliver it, and then select the most appropriate service from that carrier's list of options and pricing tiers.
Of course, if your orders are coming in by the dozens or hundreds, your team doesn't have time to carefully review each one. They don't have time to examine the recipient's address, estimate the dimensional weight of the package they'll have to prepare, factor in any time-to-delivery promises you've made and any potential delivery surcharges — and then weigh all of these factors against your company's list of carriers to determine which will offer the optimal service for that shipment.
Like the famous chocolate-factory scene in I Love Lucy, your company's customer orders — each of which requires several shipping decisions — are coming at you too quickly to allow your team the time to stop and give each order the attention it needs to ensure you're making the right shipping decisions in terms of both customer service and cost savings.
But there are several relatively simple steps your business can take to stop playing defense with your shipping process, and start playing offense. One of these steps is to leverage the cost-savings potential of services available to your business right now through carriers you're almost certainly already working with, such as the United States Postal Service.
For example, your business could qualify immediately for the USPS shipping cost discounts including Commercial Base Pricing and Commercial Plus Pricing.
Let's take a closer look at both.
What is USPS Commercial Base Pricing?
Pricing for USPS postage ranges from Retail Pricing (no discount), to Commercial Base Pricing (moderate discount, and available to anyone), to Commercial Plus Pricing (steep discount, but generally available only to high-volume shippers).
We'll leave out a discussion of Retail Pricing altogether — because who wants to pay that? And we'll discuss Commercial Plus Pricing below — including how your business can qualify for it even if you don't meet its minimum threshold for shipping volume.
But first, let's discuss Commercial Base Pricing.
USPS Commercial Base Pricing is a postage discount program (often overlooked by commercial shippers), where the Postal Service rewards its customers for ordering postage online rather than visiting a Post Office branch.
Ideal for businesses that need to ship but do not engage in high-volume shipping, Commercial Base Pricing offers an immediate and automatic discount to any customer.
Note: The Commercial Base Pricing discounts apply to packages only, not to letter mail.
Who Can Take Advantage of USPS Commercial Base Pricing?
The short answer: Anyone.
Because the USPS views this program as a cost-saving measure for its own operations — processing shipping data for postage bought online requires fewer resources than working with a customer who comes into a Post Office location — Commercial Base Pricing discounts are open to any shipper. The only requirement to qualifying for the discounts is that you order your postage online.
If your business normally ships orders by taking your packages to the local Post Office and purchasing postage in-store, you can start saving on your shipping costs by simply switching to ordering your postage over the Internet.
How Can We Get the USPS Commercial Base Pricing Discount?
When it comes to actually receiving your Commercial Base Pricing discounts on the postage your business purchases, you have several options, including:
Postage meters that print information-based Endicia and transmit this data to the USPS

The Click-N-Ship service from the USPS, which lets you buy postage online and print labels from your computer

Third-party USPS postage apps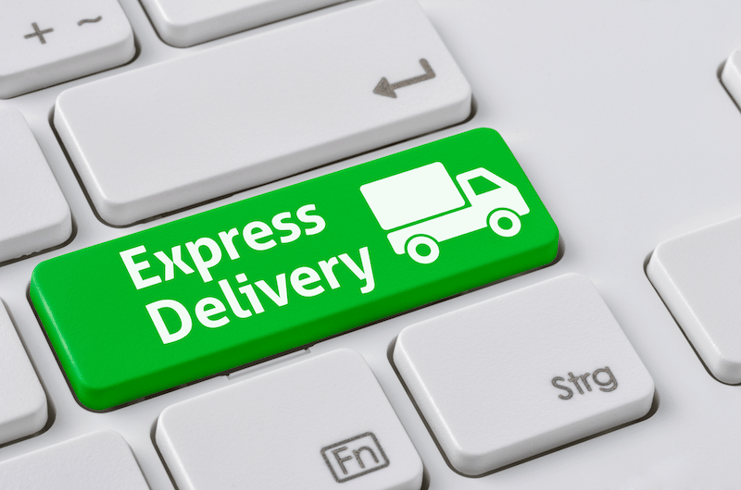 What Are the Actual Commercial Base Pricing Discounts?
Commercial Base Pricing discounts are available for several mail classes (although, remember, not for letter mail). Here is a guide to these classes and the discounts for each from 2017.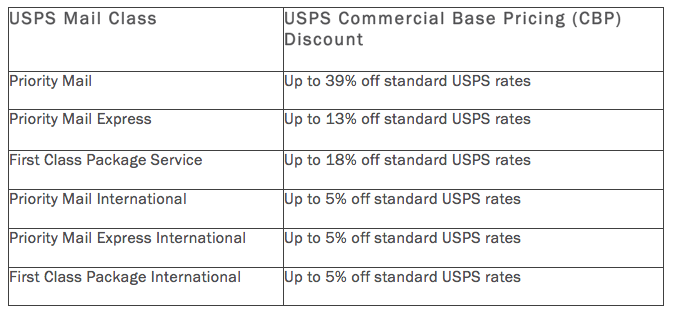 What is USPS Commercial Plus Pricing?
If you are a high-volume shipper — or even if you aren't, but your company works with a shipping-automation platform that has negotiated these discounts directly with the USPS — you can qualify for USPS Commercial Plus Pricing.
What Are the USPS Commercial Plus Pricing Discounts?
Below is a guide to the discounted postage rates available to Commercial Plus Pricing customers from 2017.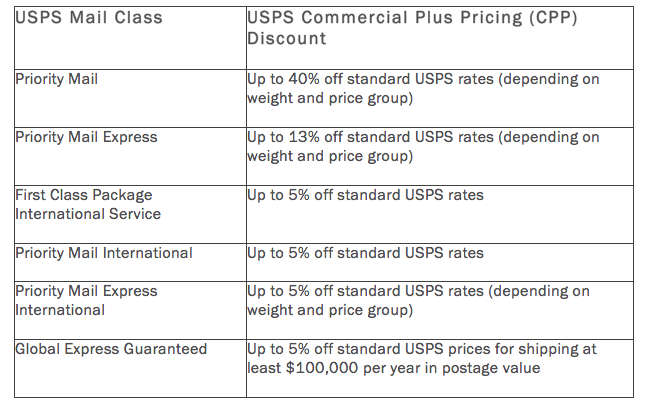 It's important to understand, however, that if you go it alone and try working directly with the USPS, you will need to meet the shipping-volume minimums for the mail classes listed below from 2017 to qualify for that class's Commercial Plus Pricing discount.
The Shipping-Volume Minimums Required for Commercial Plus Pricing Discounts

In case you're wondering, the reason the Priority Mail discount applies only to lightweight, machinable packages is that the program's original purpose was to help the USPS reduce its processing costs
Note also, that there are two basic ways your business can qualify on its own for Commercial Plus Pricing for each of the above mail classes.
1) You can prove to the USPS that you reached the minimum volume for a given mail class in the previous calendar year.
In other words, if you can provide records to the USPS demonstrating your company has met the volume threshold for the previous year, you will qualify for the Commercial Plus Pricing discount for the coming year.
2) You can commit to meeting the volume threshold for the coming year.
If your company has not met the shipping-volume threshold but would still like to receive the Commercial Plus Pricing discounts, you can enter into a Customer Commitment Agreement with the USPS. Essentially, you will be promising to meet the minimum threshold.
Is There Another Way to Qualify for the USPS Commercial Plus Pricing Discount?
Short answer: Yes.
Even if your company does not typically meet any of these thresholds to qualify for USPS Commercial Plus Pricing discounts, and even if you are not comfortable signing a Customer Commitment Agreement that puts you in the position of having to meet this shipping-volume threshold within the next calendar year, you can still qualify for the steepest postage discounts available from the USPS.
The way to do this is simple: Deploy an automated shipping-platform from a company that has already negotiated Commercial Plus Pricing discounts with the USPS for all of its shipping customers — your business included.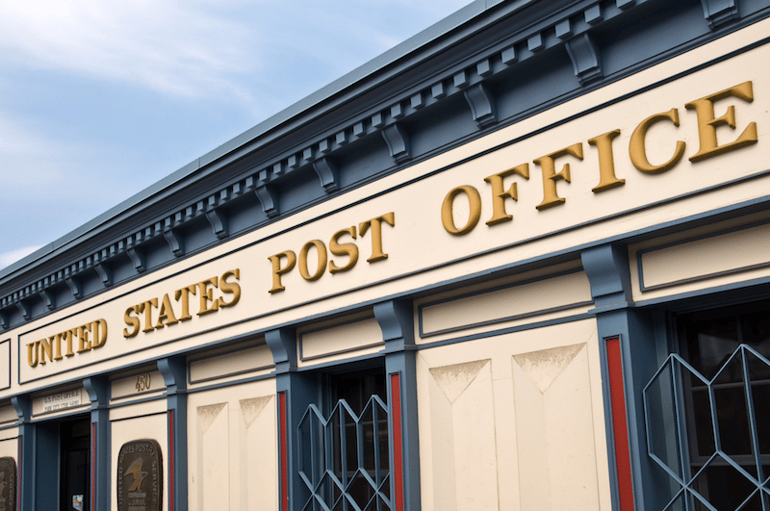 How Does a Negotiated Service Agreement Fit into the Commercial Plus Pricing Discount?
Such third-party shipping partners work directly with the USPS — essentially approaching the Postal Service as a single high-volume shipping customer — and then they enter into a Negotiated Service Agreement (NSA) with the USPS for Commercial Plus Pricing shipping that they can then offer their own customers, even those that engage in very low-volume shipping.
In this sense, you can think of an automated shipping platform as a professional employer organization — one of those companies that aggregates a large number of small- and medium-sized businesses that alone would have little negotiating muscle with a health-insurance provider but, when pooled together into a single entity, might enjoy the leverage of Fortune 100 corporation.
The right
automated shipping partner
can deliver this same type of negotiating leverage to your business when it comes to identifying and taking advantage of shipping discounts from your carriers — including the steep Commercial Plus Pricing discounts once available only to high-volume shippers.