Things to Think About: Shipping Packages
You have an item. You sold this item to a person in another city. This item will not fit in an envelope. This item is large. It needs to be put in a box. But, which box? Which carrier do you use? How do you ensure you are getting the best rates and capturing the highest ROI for this item?
Below, I've listed 3 things to think about when you are beginning to build your eCommerce business.
1. Can You Ship With A Flat Rate Provider?
Flat Rate Shipping, where applicable, is the easiest way to get shipping fast. USPS said it best, "If it fits, it ships." With domestic flat rate shipping services, you pay a standard price to ship a specific box regardless of what the shipment weighs or how far away its destination is. Why is this so powerful? Well, if you are shipping a product with similar size, weight, and dimensions, then flat rate shipping allows you to know your shipping cost ahead of time. With this information, you can bake shipping into the price of your product and give the impression of 'free shipping' without having to eat unexpected shipping costs. USPS will also provide the boxes for you. Limiting your overall COGs.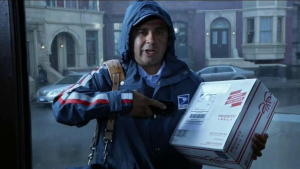 USPS is a leader in flat rate shipping.
Flat rate shipping services have several advantages, including:
Free boxes (Yay!)
Predictable shipping costs regardless of zone (double Yay!)
Fast delivery (Triple… Triple Yay?)
Competitive rates (you get the idea…)
Sending your online orders via USPS Flat Rate (or the competition, FedEx One Rate) could save you money on standard shipments. What's popular? What do you ship across the country? Could you reduce your costs using the flat rate method?
Flat rate shipping is not a "silver bullet" by any means. Shops often get lazy and use flat rate shipping for every order. See below: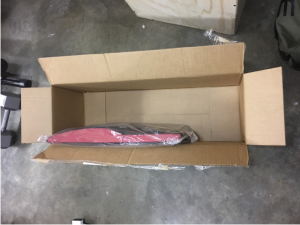 This "unnamed" eCommerce retailer put one t-shirt onto a flat rate box and sent it on it's way. While this retailer was able to "forecast the shipping cost" for this box, one can safely assume that they were not able to improve ROI on this product. This seller shipped a t-shirt, which weighs roughly two pounds, from Las Vegas, Nevada, 89101 to our offices in Santa Barbara, CA, 93101. Let's look at a rate table:
| | | | |
| --- | --- | --- | --- |
| Carrier/Service Level | Packaging Cost | Shipping Cost | Total Cost |
| USPS Medium Flat Rate | $0.00 | $11.95 | $11.95 |
| FedEx Ground | $0.50 | $10.09 | $10.59 |
| FedEx SmartPost | $0.50 | $9.29 | $9.79 |
| USPS Retail Ground | $0.50 | $7.75 | $8.25 |
You could be like this retailer and just throw whatever you have into whatever box you find, OR you could save 3 ½ bucks and package it correctly. That's where the power of automation with shipping software comes in: intelligently packing and shipping all products. There are times when flat rate shipping will save you money, and there are times when it will cost you money as well.
2. Did You Factor In Dimensional Weight?
Dimensional weight price is defined by Wikipedia as: "a pricing technique for commercial freight transport (including courier and postal services), which uses an estimated weight that is calculated from the length, width and height of a package." In plain english? It is a value placed on the actual space the package takes up.
Quite literally, this means some items might cost more than you imagine to ship. A one pound box with 216 cubic inches costs far less than a one pound box that is 1,000 cubic inches. Weight alone is not enough to get accurate costs associated with shipping. With Dim Weight pricing, how you pack is just as important as what you pack. Which leads us to our final point...
3. Are You Choosing Packing Material Wisely?
"Poly bags" work well for soft goods that are not fragile. They are durable and are unlikely to tear. Clothing is a good example of using poly bags for shipping. When you graduate to boxes however, it is important to keep in mind the "burst" and "crush" rating of the boxes you are using. As the package's weight or size increases, so too should the burst and crush rating of the box. The general rule is to pack in order to allow protection for your products from a four foot (or chest high) drop.
"Crush" and "Burst" ratings are important, for sure. Utilizing filler materials will add to the protection of your product. Air-Cellular Cushioning, Packing Peanuts, Foam Filler, or even wadded up newspapers will add the the protection of your product. For more Fragile items, utilizing a double box method could be the best case scenario for you.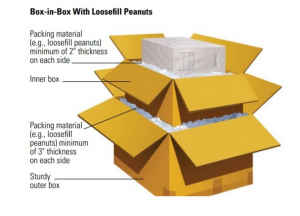 Image courtesy of www.smallbiztrends.com
FedEx put together an amazing video series on how to pack, seal and label shipments for the growing eCommerce shipper.