The Truth Behind "Free Shipping"
While online shopping, "free shipping" is an enticing offer that often determines whether a customer will make a purchase or completely abandon their shopping carts. In 2017 alone, there was over $4 trillion dollars worth of merchandise left unpurchased in online shopping carts.
To take advantage of this unclaimed capital, e-Commerce retailers face the constant struggle of choosing either to offer free shipping or to charge a shipping fee. In the competitive world of online retail, shipping costs are a significant complication when striving to offer the best prices without losing product quality, customer satisfaction or seller's income.
Free Shipping Isn't Actually Free
While the name suggests otherwise, "free shipping" isn't actually free. For companies to offer free shipping, products must be marked up to cover the cost of shipping. So why are online stores compelled to offer "free shipping?"
For many consumers, shipping costs can be a deal breaker. Offering free shipping is what compels consumers to make online shopping purchases.
When consumers shop online, they are looking for the convenience that online shipping provides. Consumers weigh the value of online shopping versus the "real life" shopping experience. Factors to be considered include:
Shipping Price -- If the shipping price is unreasonable, consumers would rather go to the store to make a purchase

Timing -- Customers would prefer paying no shipping cost and go to a store if they will be subjected to waiting numerous business days for the product to arrive

Return Complications -- If a customer isn't confident they'll be satisfied with a product, paying for shipping is a gamble because it's a cost that won't be refunded. Free shipping helps decrease those doubts
Paying More for "Free Shipping"
Often times, consumers price check products they are interested in to compare prices and make an informed purchase decision. When price checking, consumers take shipping costs as an impactful consideration when making a decision. Let's take a look at this example: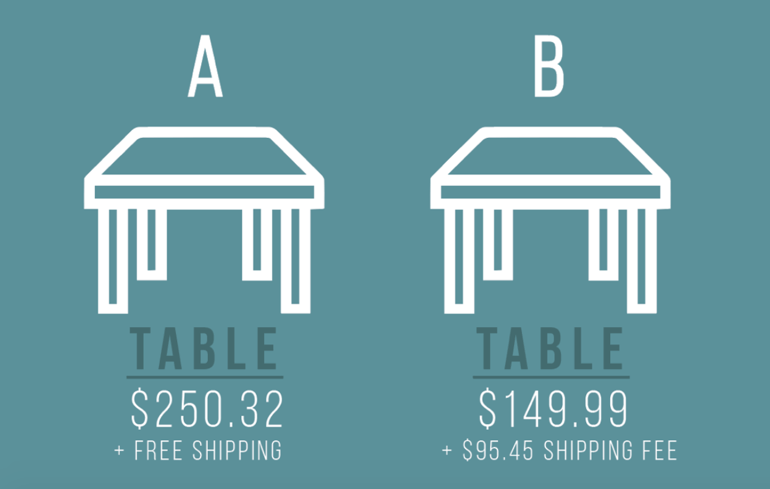 In this example, we can see two options for purchasing the same product:
Option A is a higher price but includes free shipping

Option B is ultimately cheaper altogether, however, the $95.45 additional shipping charge is what the eye gravitates to
Despite the initial shock of such a high shipping cost, the second option is the cheaper option.
So why do online stores insist on offering free shipping if it drives the price higher?
Consumers would prefer not to deal with shipping prices. The typical consumer would rather initially pay more and get "free shipping" than choose the option with the seemingly high shipping fee.
Online retailers are very much aware of the fact that large shipping costs are intimidating to customers. They work to combat this by providing free shipping or flat rate shipping, which hides the shipping fee from the consumer, making them more likely to make the purchase.
Future of Shipment Pricing
While providing free or flat rate shipping options has proven to show higher customer satisfaction and customer loyalty, setting free or flat rate shipping fees can potentially be detrimental to a business. For example:
A customer may live close to the warehouse and the online seller is actually charging too much for shipping

A customer lives in an obscure location, forcing the businesses to pay additional charges
Rather than setting a flat rate, it is ideal to charge individualized delivery costs based on each customer and their shipping needs.
It's clear that shipping prices greatly impact a consumer's decision to make a purchase. A simple "free shipping" sales promotion can make the difference between a purchase and an abandoned shopping cart.
Finding a balance between shipping costs and product value is essential as offering free shipping can lead to increased customer loyalty, sales profit and overall satisfaction in the customer experience.
To learn more about how to balance shipping costs and product value, contact sales@shiphawk.com today!