Last week, ShipHawk's Chief Technology Officer, Ron Riggin was joined by an RSM Consulting Director, Bharat Chandu, and Unique Vintage's Chief Operating and Financial Officer, Dorothy Sadd, for a webinar discussion on The 10 Competencies of Best-in-Class Warehouses hosted by Supply Chain Now.
The webinar discussion was a unique opportunity to gain insight into the best-in-class warehouse competencies from each of the panelists' areas of expertise - business consulting, omnichannel operations, and supply chain logistics. Here are some highlights of the webinar discussion and deeper dive into the 10 Competencies of Best-in-Class Warehouses.
What Are the Essential Competencies of Best-in-Class Warehouse Operations?
The characteristics of best-in-class warehouses have evolved over the past few decades going from basic mobilization of the workforce to the advanced automation of the entire operation today. These 10 competencies help provide a deeper understanding of the capabilities of basic, good, and great warehouse operations.
The Best-in-Class Warehouse Competency Pyramid provides a visual framework to understand how the competencies build on each other.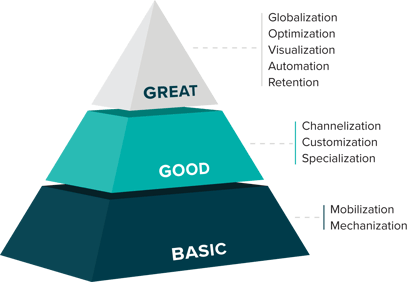 As Ron points out at the beginning of the webinar discussion, there can be tremendous value gained within the warehouse by implementing a couple of simple concepts that fall into the basic level competencies (mobilization and mechanization), but there is still a necessity to seek higher-level competencies within your warehouse to grow and sustain your business in today's competitive marketplace.
The main takeaway is understanding these competencies will help you identify where your current warehouse operation is as well as opportunities for improvement to unlock your business's growth potential and stay competitive.
The Importance of Basic Warehouse Competencies
Mobilization
Mobilization is a concept that has been available for decades and refers to giving warehouse workers a mobile handheld device equipped with a barcode scanner– that connects to a warehouse management system (WMS) – allowing them to move around the warehouse and perform directed tasks using optimized routes and verifying each task accomplished.
Mechanization
Mechanization involves classic conveyor belt and carton sortation functionality that enable the transport of goods from one end of the warehouse to the other. While Ron points out that this is commonplace for large companies to have this functionality, it is also applicable for smaller companies to utilize mechanization for strategic placement within the warehouse.

Ron highlights that mobilization and mechanization are very basic level competencies that represent the baseline technology and capabilities needed within the warehouse, however, there are subtleties of how your business should utilize these capabilities that will give you the greatest value and return on your investment.
The Top Characteristics of Good Warehouses
Channelization
As Bharat explains, channelization refers to two things within the context of a warehouse. First, how orders are coming into the warehouse (e.g, direct-to-consumer, B2B, Amazon, phone orders). With so many channel options, a warehouse has to be flexible enough to take in those different channel-specific orders and adapt workflows accordingly. The second is, how orders are leaving the warehouse - a warehouse must be flexible to accommodate this same set of diverse channels for sending orders out of the warehouse through these various channels.
Customization
Customization involves the ability to customize items and configure custom orders within the warehouse. Customization is all about a warehouse operation that is able to adapt and "build to order" rather than the typical "build to stock" method. As Dorothy pointed out during the conversation, "Customers are used to getting what they want, when they want it" so having the ability to customize orders within the warehouse is critical to delivering a great customer experience.
Specialization
Within the same vein, specialization involves tailoring your shipments to the exact needs or specifications of your customer. Be it specialized gift wrapping for a direct-to-consumer order or UCC labeling for a major retailer shipment - complying with specializations are critical to satisfying your customers and avoiding huge fees for non-compliance. Listen to Ron's thorough explanation of specialization:
Capabilities of a Great Warehouse Operation
Globalization
As Dorothy explains, "anyone, anywhere, can find you and you can find them…somebody in Angola may want to order a dress and a pair of shoes, so we're going to box it up and get it to Angola." The globalization competency means just that - anyone, anywhere should be able to order your products and still expect exceptional service as if they were located across the street.
Optimization
Optimization is a critical competency to master within the warehouse. With the vast majority of every warehouse task encompassing travel time, ​​the optimization core competency is focused on placing inventory where it is most needed and combining tasks that are closely related. Listen in on Ron's description of the importance of optimization:
Visualization
Collecting data is one thing, but being able to visualize that data to make decisions that improve your warehouse operation is another key competency. As Dorothy emphasized, "Understanding visually, how you are performing in every area of your DC and in every area of your supply chain - is critical." A warehouse with the ability to visualize what's playing out on the warehouse floor in real-time, via an operator performance dashboard, has the power to make data-informed decisions that can boost efficiency and help identify high and low-performing workers or processes.
Automation
The automation competency spans beyond the basic-level mechanization competency, and frequently works in conjunction with the warehouse operator to achieve enhanced efficiencies and accuracy. Advances in autonomous vehicle technology now permit inventory to be delivered to the operator from anywhere in the warehouse, instead of the operator traveling to that inventory. Alternatively, robotic carts can locate operators in aisles to complete picks or direct putaways. These devices are more portable, flexible, and adaptable than ever, not locking you into technology that is static or fixed. Here's Ron's perspective on the automation competency:
Retention
Nothing will chase an employee away faster than asking them to perform their job using an over-complicated warehouse solution. Ease of use and a frustration-free experience in a highly complex warehouse environment is key for both attracting hires in today's highly competitive talent market and retaining employees.
As Bahrat callouts during the discussion, employees like to work with easy-to-use systems and hate doing mundane data entry - especially in older legacy systems. In today's world, everyone wants to use state-of-the-art technology because it's a resume builder, opens up career opportunities, and makes people's jobs easier.
Your warehouse workforce is the fuel that keeps your business running so retaining your workforce through an easy-to-use warehouse solution is key to the growth of your business and operating a great warehouse.
If you want to view the full webinar, you can watch it here. Additionally, if you want to take a deeper dive into The 10 Competencies of Best-in-Class Warehouses, download our free eBook to discover how you can take your warehouse from good to great!