Shipping Labels
As a regular consumer, one might not give much thought to the details of shipping labels. The package arrives at your front door, you rip it open to get your goodies, and toss the packaging. Yet, there are many nuances to labels that make sure the shipment is handled properly by the carrier to get from A to B.
Most people probably have experience using USPS Stamps to mail letters. If you've ever needed to ship an envelope that is larger than normal, you may have noticed that it takes multiple stamps to fulfill the postage payment requirements. Sometimes, you may have taken a small box to the post office to have them weigh the package and print a small postage label.
If going to the post office is too much of a hassle, you can try out ShipHawk's shipping and logistics platform and print labels directly from your home or business, for items of all sizes. Below are the details for how you can use ShipHawk to get the right shipping labels for your shipping needs.
Parcel labels:
USPS: Available instantly on ShipHawk.
FedEx, UPS: To use ShipHawk, you will need your own account with FedEx or UPS
Common Questions:
How do I make a parcel label?
You can make a parcel label directly online on ShipHawk by creating a new shipment. The following information can be entered into ShipHawk manually or through API:
Origin address
Destination address
Package quantity
Package length, width, height
Package weight
What does the label look like?
The label is 4" by 6" generated as a PDF. It looks exactly as it would look if you went to USPS or FedEx directly.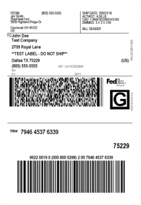 What if I am shipping multiple packages?
For large orders with multiple packages, ShipHawk creates a master tracking number and individual labels for each package.
ShipHawk also offers the ability for enterprise customers to do batch label processing if they have multiple shipments going to multiple different addresses.
How do I actually send the package?
To ship your package once you have the label, you will need to physically drop it off with the carrier or arrange a pick up using your own account.
How do I track?
The tracking number will saved to the shipment on the ShipHawk web portal to easily access tracking for customers and billing purposes.
Can I include a pre-paid return label?
Absolutely! ShipHawk's features can create a return label to include in the shipment.