Supply & Demand Chain Executive Awards ShipHawk's Efforts Towards Sustainability in the Supply Chain Industry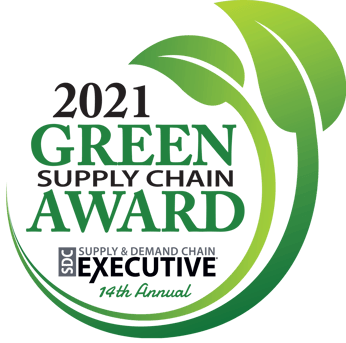 Recognized by Supply & Demand Chain Executive (SDCE), the premier supply chain magazine, we are proud to announce that ShipHawk has been named a winner of the SDCE 2021 Green Supply Chain Award. This year's Green Supply Chain Award was given to companies that prioritize sustainability to be a core part of their supply chain strategy.
ShipHawk's mission is to create a world where shipping positively impacts society without thrashing workers, the environment, or the bottom line. By utilizing ShipHawk's Smart Packing™ software to automatically configure every order, our customers are reducing their shipping and material costs while also becoming more sustainable.
As detailed by Marina Mayer, Supply & Demand Chain Executive, and Food Logistics' Editor-in-Chief, ShipHawk was one of the selected winners because "regardless of the pandemic, shortages, natural disasters, and other supply chain disruptions, sustainability still remains a top priority." She continues, "whether it's a new solution, a new program, or just simply a new way of doing business, winners of this award showcase heightened attention to social responsibility and environmental governance."
Here are some of the ways ShipHawk is contributing to a more sustainable supply chain future:
Helping shippers reduce the amount of waste by optimizing packaging
ShipHawk's Smart Packing™ algorithm helps shippers cut down waste by automatically configuring every order based on item size, weight, value, and fragility. The software then selects the smallest box (that meets carrier standards) to reduce material usage and optimize packaging. One ShipHawk eCommerce customer had their average shipment weight reduced from 14 to 8 pounds because of how ShipHawk's Smart Packing™ recommended boxes. Not only did this customer see a reduction in shipping costs and increased throughput, but they now use fewer shipping materials overall.
ShipHawk's sustainable shipping mission
Though the forefront of ShipHawk's mission towards sustainability materializes in our Smart Packing algorithm, it doesn't end there. ShipHawk employees take pride in helping our customers make their shipping practices more sustainable and feel the best way to make a positive impact now and well into the future. Our employees continue to empower our customers with solutions that not only benefit their bottom line but the environment as well.
Curious how ShipHawk can make your fulfillment process more green-friendly while reducing your shipping spend? Schedule a call with one of our shipping experts today.