ShipHawk's sustainability and environmentally conscious efforts have been awarded by Supply & Demand Executive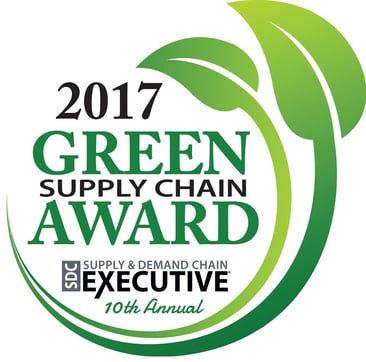 When you deploy ShipHawk's smart Transportation Management System, TMS 2.0™, you have the opportunity to save much more than time and money in your order-fulfillment operations. As an active user of ShipHawk's packing optimizer, you will also be helping to save the environment.
And that's not us talking: Supply & Demand Chain Executive Magazine has recognized ShipHawk's contribution to sustainability with a 2017 "Green Supply Chain" award.
Which means that by leveraging our patent-pending, hardware-free packing-optimization system, you'll be helping to reduce wasted packing materials that have contributed to the negative environmental impact of traditional shipping and order-fulfillment operations.
Here's how Supply & Demand Chain Executive's editor, John R. Yuva, described the significance of such awards: "Honorees for this year's award demonstrate that corporate social responsibility is a business imperative that transcends the company and extends throughout the supply chain, involving suppliers and customers. The number of entries only increase year over year, demonstrating how critical sustainability initiatives are within companies."
How ShipHawk Helps Shippers Green Their Shipping Operations
1. Reducing the amount of packaging materials needed
Whereas many businesses have begun shifting toward recyclable packing materials to reduce their environmental impact — an important and laudable move — ShipHawk has taken the next step in sustainability by reducing the amount of packing material needed in the first place.
Our packing optimization system automatically analyzes each item's key characteristics — original location, size, void space — to identify the best way to package the item using minimal material, time and effort.
2. Reducing the amount of plastic used in shipping
Another reason Supply & Demand Chain Executive honored ShipHawk this year with a green award is our ability to help shippers reduce the amount of plastic in their packaging operations — which is currently the leading cause of plastic waste.
ShipHawk's packaging algorithm ensures that each item is shipped in the most efficient way — using as little plastic as possible — to help reduce waste and lower the shipper's environmental impact.
3. Reducing shippers' carbon footprint through more efficient transportation and delivery
ShipHawk's shipping-automation platform also helps streamline the transportation process for shippers, which helps reduce their environmental impact from the packaging stage — literally all the way to the recipient's doorstep.
Using ShipHawk's multi-carrier, multi-mode TMS, shippers can identify the right carrier and service for every order — to optimize delivery routes and times, and further reduce their shipment's carbon footprint.
Discover How ShipHawk Can Green Your Shipping Process
Contact us to speak with a shipping expert, or request a demo of ShipHawk's software.