Print Parcel Return Labels with ShipHawk
Product Update - November 2016
Shopping online is convenient, but has a higher level of risk of return. As much as 30% of all orders processed online are returned. This is almost triple the amount of returns made from in-store purchases, which is traditionally closer to 8 or 9%.
Customers want a hassle-free return policy and are more likely to purchase an item if there is a guaranteed, easy return option. Boost your eCommerce business by taking advantage of ShipHawk's parcel return label feature.
When you are shipping large volumes of small parcels, a greater incidence of returns is to be expected. A modern transportation management system (TMS) can handle outgoing shipments and incoming returns simultaneously. This mitigates error and boosts efficiency, while reducing the cost of manual returns processing.
Pre-Generated Return Labels
We allow customers to generate pay-on-use parcel return labels for FedEx, UPS, and USPS. This feature gives you the option to include a return label with the initial shipment to the customer.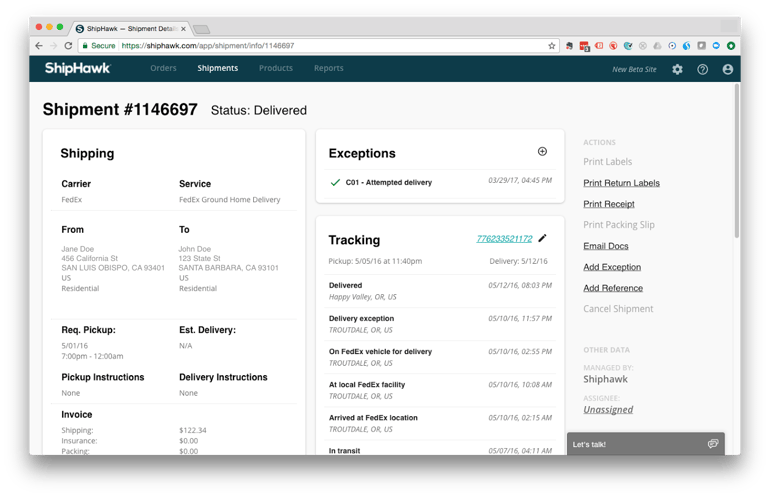 ShipHawk's dashboard makes it easy to print your own pre-paid return labels for customers. Simply click on the desired shipment and then click "Print Return Labels" on the right. The system automatically generates the label using the information previously input for the shipment.
If you choose not to include the label with the shipment, you can send the customer the label after the product is received, as well.
Streamlining your eCommerce return process reduces error, increases efficiency and boosts productivity. Learn more about returns and other shipping features included in ShipHawk's Smart TMS here.