How Logistics Software Can Help Your eCommerce Business Thrive
Today Amazon is able to offer same-day delivery for many products ordered through its marketplace. In fact, the company is continually improving its eCommerce experience for both buyers and sellers in many other ways. Customers can now add orders to their Amazon.com shopping carts just by speaking them to their Echo devices, for example, and the company's new digital Dash Buttons allow simple one-click ordering for many standard household items.
What does this mean for your eCommerce business? Plenty.
First, this Amazon effect is continually raising the bar in terms of what your customers will demand from an eCommerce experience. You can see how this pressure is affecting businesses across many industries. More companies than ever are now offering multiple shipping and delivery options. Even your neighborhood branch of the national supermarket chain is probably offering online ordering that culminates with the customer driving to the store and having her entire order brought to her car and packed into her trunk.
The second way this continual eCommerce innovation can affect your business is that it has spurred the creation of powerful — and affordable — software that can help your company thrive.
Given the fact that meeting customers' eCommerce needs requires thorough planning, and given the fact that in the digital era your customers' expectations are increasing all the time, the right software is no longer a luxury — it's a must-have.
We'll discuss the many ways logistics software can help your business thrive, as well as how to determine the right platform for your business.
First, though, let's quickly recap how we got here.
How Supply Chain Management Evolved - and Why It Now Requires Logistics Software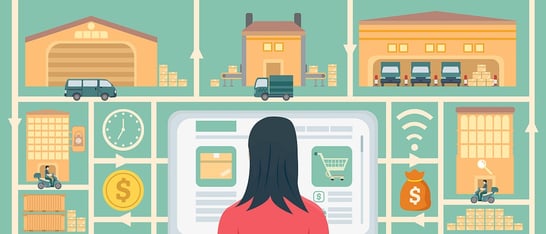 The 1970s: Decentralized, Local Sourcing and Supply Chain
As recently as a few decades ago, goods were still generally purchased directly from domestic suppliers by retail shops. There were few distribution centers or other intermediaries in the supply chain — so most sourcing and logistics operations were largely local and decentralized.
The 1980s: Centralization Takes Over
By the 1980s, logistics and supply-chain operations became far more centralized, as retail distribution centers came to prominence as middlemen between supplier and retailer. Still, even though sourcing shifted from local to regional and even national suppliers, the norm during the 80s was still a domestic as opposed to overseas supply chain.
The 1990s: Globalization Takes Over
In the 1990s, global sourcing disrupted business, creating the need for retail import centers for goods from overseas. These centers sourced products to the same retail distribution centers that had standing relationships with domestic suppliers. And today, businesses are still feeling the effects of the added logistical complexities introduced by the global supply chain.
Today: eCommerce is Growing Ever-More Convenient for Customers, But the Logistical Processes Needed to Support that Convenience is Increasingly Difficult for Businesses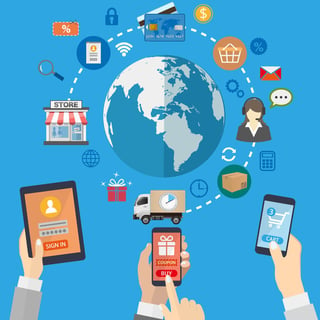 Today, the logistics infrastructure needed to support the customer's expectation of rapid, reliable and affordable delivery has grown more complex than ever. Consider that eCommerce businesses now need to coordinate their inventory and shipping processes with e-fulfillment centers, which themselves offer many options for distribution. They can transport goods to a parcel hub, a sortation center, then to a delivery center or a local depot. Both parcel delivery centers and local depots can then ship goods to a customer's home or other specified delivery point.
With all of these decisions — which many eCommerce companies might have to make dozens or even hundreds of times every day — it can be difficult if not impossible to make the right calls on every order fulfillment which carrier to use, which packaging will be the most cost-effective and which delivery options will make business sense to offer the customer.
This is why the right logistics software can be so valuable — and, indeed, necessary — for any company doing business online.
10 Ways Logistics Software Can Enhance Your eCommerce Business
Before eCommerce, typical supply-chain logistics were handled on a manual, case-by-case basis. Negotiations with suppliers, warehouses and carriers were handled by phone and, later, by email. But given the complexities of today's eCommerce, the fact that your customers might be ordering from anywhere in the world and at any time of day or night —and the increasing demands of your customers for an ever-improving buying experience — automating the logistics process is now essential for your business.
Here are 10 ways the right software platform can benefit your business.
5 Customer-Centered Benefits of Logistics Software
Given that 80% of online shoppers consider shipping speed and cost when making a purchase decision, the delivery options you're able to offer can have a tremendous effect on your conversion rates.
Logistics software automates the shipping and delivery experience for buyers, helping them make an informed choice when they're ready to buy. Here's what your business can look forward to when you leverage a transportation management system with logistics automation.
Diversified shipping options
Clear access to shipping policies
Shipping cost disclosure at point of sale
Live package tracking
Timely delivery status updates
5 Business-Centered Benefits of Logistics Software
In addition to improving your customers' buying experience — and boosting your conversion rates as a result — this software can offer a number of business benefits for you, starting with reducing the number of employees needed to support your logistics infrastructure.
Through the automation, analysis and reporting capabilities of the right software, here are five additional benefits your business can expect to realize.
Seamless integration with your content management system
Order, inventory, and customer relationship analysis
Cost-reduction identification
Customer-based profitability insights
Shipping data and carrier performance evaluation
How to Reap These Rewards for Your Online Store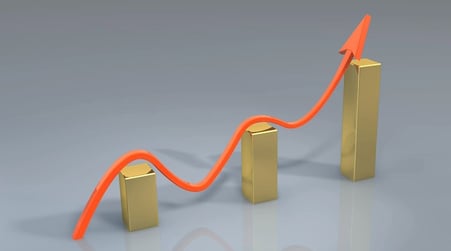 In 2015, 85% of shippers still weren't using a transportation management system (TMS). With costs decreasing and benefits becoming more apparent for both small and large online stores, more companies are leveraging cloud-based TMS.
When you decide to integrate logistics software into your transportation management strategy, there are a few central questions to ask yourself. The answers to these questions will help ensure a successful shift.
Question #1 - What are my transportation management goals?
When making improvements to any business plan, the first step is to identify your needs and set measurable, attainable goals. Knowing what you hope to accomplish ensures that you move in the right direction to get there. There are four key, generalized logistics goals that every company should strive for:
Increased efficiency
Improved customer service
Increased sales
Improved relationships
Use these as a springboard for setting your objectives. A finalized goal might look something like this:
"To increase monthly sales 12% by the end of Q4, 2017."
The above example is measurable in quantity and time. When you have a clear picture of what you're working toward, you are able to measure success.
Question #2 - Do I want to handle logistics internally or leverage the services of a third party logistics (3PL) provider?
If handling transportation management internally, you will choose your own TMS. If you decide you'd rather leave the technicalities to someone else, you will need to enlist a 3PL.
Smaller companies generally want to choose their own TMS. Trusted 3PLs are typically reserved for large eCommerce companies with the funds to warrant the investment, but many do opt for internal transportation and logistics management.
Decide which option is best for you and your business.
Question #3 - How will I integrate logistics software into my overall business strategy?
Based on your goals and whether or not you will handle logistics from within your company, you will integrate logistics into your website and your transportation and marketing strategies. If one of your goals is related to increased sales, for example, how might you best leverage logistics automation? Can you include promotional materials in your tracking updates? Before your launch a new transportation management strategy that utilizes logistics software, paint a clear picture of how you will use specific tactics to meet company objectives.
Why It's Time to Deploy a Logistics Software Platform
This software is clearly a valuable tool for your online store. It optimizes each customer's experience and enhances their perception of your brand — all while helping you grow your business.
Leverage these benefits by setting goals, choosing between internal logistics and hiring a 3PL — and then decide how you will integrate your decision into your transportation management plan.