6 Factors to Consider When Choosing Warehouse Locations
Deciding on a warehouse location is a crucial decision that impacts every aspect of your eCommerce business – finding a balance between a convenient location and a reasonable rent price is integral.
Why is warehouse location important?
The location of your warehouse directly contributes to the efficiency of your company, shipping costs, as well as the overall customer experience. If you're on the search for leasing or purchasing a warehouse location, you know just how difficult it can be to make such a monumental decision. Here are some factors to consider to ensure your company's ability to effectively serve your customers in an efficient, effective, and profitable manner.
1. Identify a strategic warehouse location
When choosing a location for a warehouse, strategic warehouse placement is everything. Research shows that with one strategically-placed DC, companies can reach 73% of the US via ground shipping in two days. That number jumps to 90% with two DC's and 95% with four. Another important aspect when selecting your warehouse(s) location is determining where your customer base lives. Having DC location(s) close to your consumers allows for faster deliveries and reduced shipping costs, both of which will positively contribute to the consumer's overall customer experience – leading to happier and loyal customers overall.
2. Ensure warehouse locations proximity to shipping carriers
Consider your warehouse's proximity to carriers. If your warehouse is located near carrier facilities, it will streamline the process of shipping your product(s) to your customer. The key is to find a good balance of a location that offers both convenience and close proximity to your target customers, as well as a carrier service. Additionally, selecting a location that is a reasonable distance between the manufacturing location, warehouse storage, and customer will make the shipping process easier and more cost-effective.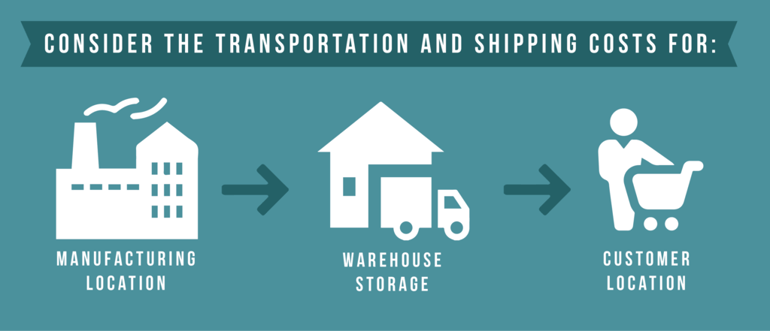 3. Plan for unique warehouse storage requirements
Take account of any special accommodations that you may have to make for your products. Are your products hazardous? In need of refrigeration? Fragile? Make sure that the proper accommodations are able to be made at your desired warehouse location. Plan ahead. In addition, don't waste time and resources finding a warehouse space that only suits your current needs. Save time, money and effort by estimating projected growth, and find a partner accordingly. Also, consider flexible leasing options that allow for your company's fluctuating needs throughout peak and trough seasons.
4. Consider available workforce near warehouse location
Just as important as the physical space is a warehouse's labor force–and this no longer just means human workers! First, consider the supply and demand of local workforce availability; low surrounding unemployment can often translate to high turnover and low productivity rates. Also, consider how high-tech a warehouse is or aims to be. What amount of rote, mechanical labor is performed robotically, or how technologically sophisticated are pick, pack, and store practices? Not only do you want a partner that can help you scale and adjust in terms of space, so too with increasingly efficient automated processes.
5. Determine whether a warehouse or 3rd party logistics (3PL) are best for your needs
The most important thing to keep in mind when considering a warehouse is to think of it as a partnership -- will it help you grow your business? To that end, you may realize that a traditional warehouse might not best suit your needs; maybe you're looking to outsource fulfillment completely. 3PLs can be an excellent tool in giving you the room and time to expand and scale. Whether with a warehouse, seasonal storage, or a 3PL, make sure that your partner is able to help you reach your goals. A strong partnership will be mutually beneficial for your company as well as your customers, providing a more efficient, effective, and profitable experience.
6. Incorporate a warehouse management system (WMS) from the beginning
If you are a scaling company in need of a warehouse management system, choosing the right one will be crucial to your success. You want a WMS that can grow with you as you scale. This is where ShipHawk comes in.
With ShipHawk WMS, you can get everything you typically would get from tier 1but for scaling companies. ShipHawk's WMS for NetSuite allows you to achieve greater labor efficiencies, higher customer satisfaction, and adapts as you grow.
To learn more about how to increase the efficiency of your warehouse and logistics operation by incorporating ShipHawk's NetSuite WMS integration, schedule a call to speak with a ShipHawk team member today.