Omnichannel Experience
As technology continues to advance, it becomes more and more integrated into our everyday lives. With these changing times, retailers will need to start taking a much more holistic view, as opposed to creating strategies separately for each medium. This will allow you to provide a consistent brand experience, appealing to customers across all locations and devices.
With 73% of consumers wanting to try on or touch merchandise before making a purchase, it is clear that brick and mortar locations still play an important role in the buying process, despite the struggles that many retailers have begun to face in recent years. It is also becoming clear that the old strategies that these physical locations were built upon are no longer sufficient for attracting and retaining customers. This is why a growing number of retailers are moving towards providing a truly omnichannel experience.
In that vein, we've compiled a number of strategies designed to connect each of the buyer channels to one another, accompanied by examples of retailers who have already made many of these approaches part of their own omnichannel game plan.
Online
Whether a customer is browsing via their desktop, mobile, or tablet, it is important to ensure that your website is aligned with your brick and mortar locations. You can accomplish this through:
Clear inventory visibility: This should include both online and physical locations.
Pricing consistency: Pricing should match up across all channels.
Local information: Make sure hours, addresses, and contact information for local stores are easily discoverable.
Customize it: Use account information and email blasts to offer deals to your customers that can be used at a nearby location within a specific time frame.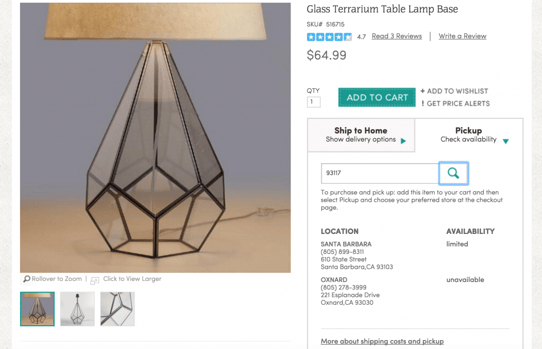 World Market includes availability for each item, both online and in-store, right on the individual product's page. Additionally, they list the address and phone number of the locations closest to the customer's specified zip code should they wish to go with the pickup option, or just proceed directly to the store and complete their purchase there.
In-Store
According to Google, nearly half of in-store shoppers search for information online while in-store, with 46% of these shoppers doing so through the retailer's own website or app. You can make these numbers work to your advantage by designing your mobile website, app, ads, and search results with shopper assistance and ease of use in mind. Here are a few other ways to engage with your customers across multiple channels while they are in your store:
Beacons: Communicate right with your customers' smartphone apps, alerting them of promotions and events.
Foster brand relationships: Coach sales associates to focus on connecting with customers, rather than pushing sales.
Endless aisle: Enable customers to order out of stock or online-only items and have them delivered to their homes via in-store kiosks.
In-store remarketing: Follow up with personalized emails and make recommendations based on customer data collected during in-store visits.

Kohl's has created an endless aisle for their customers, providing in-store kiosks with access to their online inventory. Using these kiosks, customers can search for what their looking for, place their order, and then have their items shipped right to their home. As an added bonus, all orders placed through the kiosk are accompanied by free standard shipping.
Physical Location
The above strategies can be valuable if you already have brick and mortar locations, but what if your business is purely ecommerce based? If you are considering adding a physical storefront for your business, but would like to test the waters before committing fully, you might try getting your feet wet with one of these approaches first:
Pop-up: These temporary retail events have gained a lot of momentum amongst retailers of all sizes, and can be an excellent lower-cost alternative for generating revenue, driving brand awareness, and engaging with your customers when properly utilized.
Mobile tour: Similar to or in conjunction with the pop-up, mobile tours involve taking your products on the road and stopping off at a number of pre-arranged locations. Combined with a hashtag campaign, this can be a great way to create buzz for your brand.
A guideshop is basically a showroom for your products. Customers can't buy anything on-site, but it allows them to try or on or get familiar with your offerings. Ideally they could then place their order right there in the store, and then have it delivered to their home, similar to if they had ordered via your website.

Online menswear retailer Bonobos opened their first standalone guideshop in Boston back in 2012. Since then they have expanded to over 20 locations throughout the United States. Interested parties are encouraged to make a one-on-one appointment with one of their style guides, but walk-ins are also welcome. Not only do the guideshops enable shoppers to try on and experience the Bonobos line, but they also place the order and have it shipped to the customer's home or office for free. According to CEO Andy Dunn, these guideshops are working, resulting in larger order totals than is typical for their online-only shoppers.
Post-Purchase
The post-purchase experience is rife with opportunities to connect customers to your various channels. Given that this is often the final part of the buyer journey, it is important to ensure that you leave a lasting impression:
Click & collect: Offer alternative delivery options, such as buy online, pickup in-store, and buy in-store, ship to home.
Returns in-store for online orders: Sometimes an item your customer orders online doesn't quite match up with their expectations. In-store returns and exchanges are no-hassle, no worry options that can help put the buyer at ease when ordering online with you in the future. There is also the chance that they will pick up a few more items at your physical location when they go to make the return.
Branded packaging: From custom boxes to personalized notes, there are multiple ways to upgrade your packaging and it make it part of your brand strategy. Throw in unique hashtags and plugs for your social media, and you have a great medium for encouraging your customers to engage with your company online, as well as to share what makes you special with their own audience.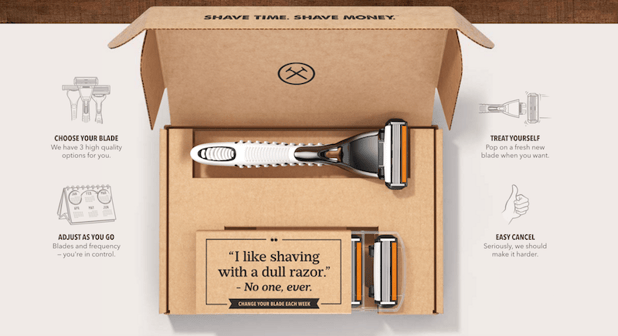 Dollar Shave Club has taken the concept of shaving, easily viewed as a relatively mundane and tedious task, and transformed it into an entertaining and shareable experience. Their packaging is part of that experience, and monthly shipments include: a sleek, branded box, cheeky notes, a copy of their lifestyle newsletter, and the occasional free samples, in addition to the actual shaving products. Dollar Shave Club also encourages their customers to share pictures of their monthly box on social media by reposting their favorite pictures and sending the lucky members some free swag.
This is a tricky, yet exciting time in retail. With millennials now making up approximately 25% of the U.S. population alone, the focus is likely to continue shifting from simply driving transactions and sales, to spinning stories, sharing brand values, and providing unique experiences. And as these customer expectations shift, so too will omnichannel strategies continue to develop and bloom.