Defining a Blanket Wrap and White Glove Services
What is Blanket Wrap and How Does it Work?
Blanket wrap is a type of service where carriers wrap items in blankets to protect them during transit, generally used for larger unpacked items such as furniture. This type of service is exactly how it sounds: items are wrapped in blankets, strapped securely inside the truck, and transported onto a truck with other items wrapped in the same way. Each truck is staffed by two drivers who make all of the pick-ups and deliveries.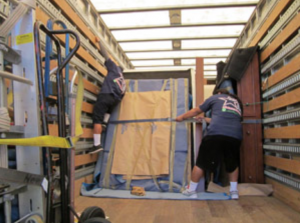 Blanket wrap providers usually have multiple warehouses around the country. The closest office will first contact the shipper to arrange a pick up. Once the item is picked up, it is then brought back to the closest warehouse. From there, the item may be transferred on another truck to the terminal closest to the destination. When the item arrives at the closest terminal to the destination, that office will then contact the recipient to arrange delivery.
What is White Glove?

White Glove describes a delivery service level. It includes delivery inside the home, placement in room of choice, all packing materials removed, and basic assembly if necessary.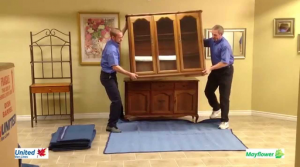 Is There a Difference Between Blanket Wrap vs. White Glove?

Yes. The terms "Blanket Wrap" and "White Glove" are often used interchangeably, although there is a slight difference. Blanket wrap is the method used to transport goods throughout the whole shipment. On the other hand, white glove describes the type of service offered at the final delivery to the customer.
Since blanket wrap providers transport unpacked items, all blanket wrap shipping includes white glove delivery. However not all white glove deliveries are necessarily transported by a blanket wrap carrier. For example, the freight could have been palletized and shipped to a delivery agent, who unpacks the freight, inspects it, and delivers it "white glove" to the customer.
Why Choose Blanket Wrap?
Most economical way to ship used goods or unpacked items.
Great fit for fragile items, unpacked freight or oversized pieces. The transit is far less turbulent since there is less movement of each item and shipments travel within their own vehicles.
For highly fragile items such as chandeliers, mirrors and art, most blanket wrap carriers can provide packing and crating services in addition to wrapping in blankets.
Expectation Setting for Blanket Wrap Shipping
Since carries only use their own vehicles, they schedule their routes as efficiently as possible based on their capacity.
Transit (pick-up and delivery dates) varies greatly compared to traditional freight transit. Typically you should allow 1-3 weeks for pick-up to be arranged and an additional 2-3 weeks for delivery. Remote areas could take longer. Thus, we suggest setting customer expectations for a 3-8 week transit time. Depending on the location, a more precise time frame can be provided.
Appointments are based on the carrier's availability, not the customers. The carrier will contact the customer a few days in advance to provide a date and time frame of 2-4 hours. Similar to following a bus or train schedule, the customer will need to make themselves available to meet the carrier to make the pickup or delivery. In high density metropolitan areas such as New York City, carriers often have dedicated trucks to accommodate customer's schedules, but generally both shippers and recipients need to be flexible to accommodate the driver's schedule.
Pickup and delivery dates are not guaranteed. Weather, traffic, and mechanical issues can interrupt scheduled routes. However, carriers make an effort to communicate directly with customer as quickly as possible to inform them of any changes.
Exceptions to the Rule and Additional Charges
The weight limit for two movers is approximate 150 lbs. If the item is extremely heavy, there will be additional charges per additional mover.
Quoted prices assume that there is a clear path and no stairs at both pickup and delivery. If a delivery location is difficult to reach or if there are stairs at either end, there will be additional charges for labor or time.
Chandeliers need to be disconnected by an electrician prior to pick up. Movers will not install them for safety reasons.
There are additional charges for disassembly or assembly of beds.
Depending on the carrier, the drivers may be willing to roll a rug and pick up and unroll at delivery, but they do not move pre-existing furniture for liability reasons.
Which Blanket Wrap Providers Do You Offer on ShipHawk?
Plycon
Team WorldWide
Ukay
Vintage Transport
B Cubed
Justo
AirSea
+we can add your tariff!