How to Attract Customers through Shipping
Every e-commerce business owner is looking for ways to improve conversion rates and appeal to more customers. Offering creative shipping options has quickly become a way to attract customers, increase shopping cart value, and convert more sales. There are several widely used in-the-cart shipping methods. The details of how to attract customers through shipping is explained below.
Option 1: "Free" Shipping Returns
Why "Free" Attracts Customers
Anytime a customer sees the word "free" there is is an immediate and positive psychological effect. In fact, people generally over-value the true benefit of free options, but online it can be a bottom-line difference maker. "Free" shipping is ultimately how shoppers rationalize making a purchase online, instead of in a store.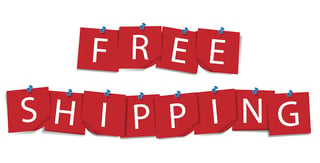 There are two ways to purchase items: in person or online. Shopping online is considered the more convenient option, since there are no lines, pressure to make a decision, and the item's availability is known instantly. Even though online shopping has the benefit of convenience, having to pay for shipping is a major drawback. Simply put, online shoppers don't think they should have to pay for shipping costs.
Part of this has to do with The Amazon Syndrome, where online shoppers believe that everything online should be shipped for "free". It's rarely taken into consideration that shipping costs are built into the final cost of everything we purchase. Nearly 60% of online retailers cite "free shipping with conditions" as their most successful marketing tool.* The fact of the matter is that the word "free" is enticing since there's no way to offer a free product, the alternate inducement is free shipping.
An alternative to offering free shipping to everyone is offering free shipping when the customer spends a certain dollar amount. This will motivate the customer to spend more money to reach the free shipping threshold. Furthermore, it lets the customer feel in control of where their money is going, instead of feeling like their money is going to a faceless carrier for shipping and handling charges.
FREE RETURNS
Another side of the free shipping coin is offering free returns. Since one of the downsides of online shopping is not being able to see a tangible object, sometimes the customer is dissatisfied with the product they receive. The fear of having to return the object to the sender may end up preventing a customer from committing to a purchase. The allure of free returns may encourage more customers to purchase, since they know they can return it easily.
Retailers Beware: When marketing this option to customers, remember that the cost for "free returns" may negatively impact margins since the pricing can be unpredictable. Now that FedEx and UPS base pricing on volume, if customers return the product in a larger box than anticipated, it could eat into your margins.
Option 2: Offer Premium Shipping
When Econsultancy asked respondents: Thinking about delivery options, what would make you more likely to buy online? Here's how they responded.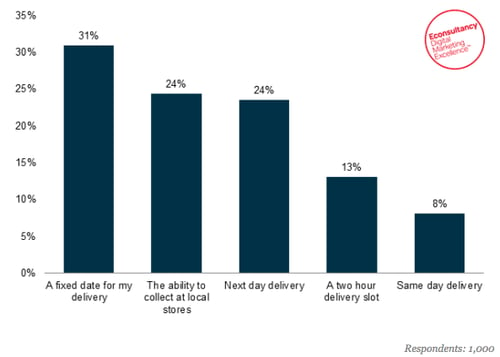 A downside of purchasing online is the lack of immediacy. The survey above shows that the customer wants an option to get the item as quickly as possible. Premium shipping offers certainty and, especially for large or valuable objects, the option to schedule a specific delivery time. You can attract customers with premium shipping by marketing it as a benefit that comes with purchasing through your site. Another option would be to highlight this feature in the shopping cart to reduce the chance of a customer abandoning their shopping cart.
Option 3: Subscription Service
Depending on the types of items you sell and the frequency that you ship them, it may be worthwhile to examine offering a subscription based service, like Amazon Prime. This subscription service requires a monthly or annual fee and in return the shopper gets free shipping or premium shipping for "free". To ensure that positive margins are met, you would need to analyze the shipping costs and purchase frequency of each item you sell before determining the price of the subscription service.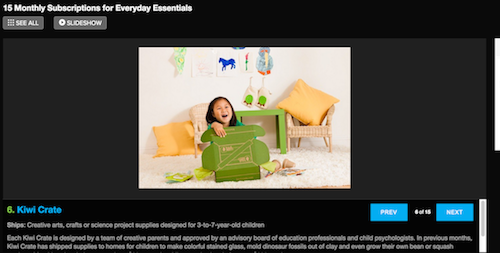 Shipping isn't just a method for attracting customers. The fact is that a lack of delivery options or shipping transparency leads to abandoned cart purchases and unrealized revenue Grow your business with a shipping solution that enables you, the business owner, to find your ideal shipping threshold that will attract customers and increase conversion rates.
*http://knowledge.wharton.upenn.edu/article/how-the-offer-of-free-shipping-affects-on-line-shopping/