WrestlingMart, a lead provider of quality wrestling gear, saw drastic improvements in shipping accuracy and a reduction in shipping errors after implementing ShipHawk's centralized fulfillment solution. A key factor in helping WrestlingMart improve accuracy and efficiency in their shipping operation is ShipHawk's integration with NetSuite.
What is WrestlingMart?
Since it was founded in 2002, WrestlingMart has been fully outfitting wrestlers in top-notch wrestling shoes, headgear, singlets, mouthguards, clothing, and more. WrestlingMart quickly became a top competitor in the wrestling gear industry and is currently the world's largest wrestling specialty store. Although WrestlingMart began as a brick-and-mortar store, they now have a thriving eCommerce presence and several warehouses that are operated with help from ShipHawk's automated shipping solution that directly integrates with NetSuite.
WrestlingMart's Struggle to Reduce Shipping Errors
As WrestlingMart began to invest in technology to scale its eCommerce business, the team needed to find an advanced shipping solution to address their shipping and fulfillment challenges. Prior to discovering ShipHawk, WrestlingMart was experiencing frequent shipping errors like shipping incorrect products, selecting incorrect shipping times, and shipping with incorrect rates.
WrestlingMart realized that their previous shipping software was the obstacle preventing them from reducing shipping errors and shipping costs, and if not replaced with scalable technology, would be a blocker to the future growth of their eCommerce business.
Shipping the wrong product
One of the common shipping errors that WresltlingMart needed to remedy was mis-shipments or shipping incorrect products. With a wide selection of similar products made in multiple sizes and colors, packing orders require precision and accuracy. Unfortunately, WrestlingMart's warehouse team would find themselves accidentally shipping the wrong item. For example, when a customer ordered a size 10 shoe they may be sent a size 9 shoe instead. This shipping error is a costly mistake and requires companies to pay to have customers return the incorrect product and send the customer a correct replacement– and that's if they still want it. Additionally, this type of shipping error leads to a negative customer experience lessening the likelihood that a customer will order from your business again.
Utilizing the wrong shipping time
Another common shipping error for WrestlingMart was selecting incorrect shipping times. For example, warehouse employees would accidentally ship an order ground instead of shipping overnight when the customer had selected overnight shipping during checkout– yet another example of shipping errors that negatively impact the customer experience. If an item doesn't arrive on time and the customer paid extra for expedited shipping, that customer isn't going to be happy when the gear they needed for a big match the next day doesn't arrive until the next week.
Lack of rate shopping functionality
WrestlingMart's previous shipping software had no rate shopping functionality which also negatively impacted their shipping accuracy and bottom-line. For instance, WrestlingMart would ship overnight even if less expensive ground shipping would deliver the package in the same amount of time. With ShipHawk's shipping rate comparison, WrestlingMart gained a solution with the ability to automatically find the fastest and cheapest rate that meets the needs of their customer's timeline.
How ShipHawk's Direct Integration with NetSuite Helped Reduce Shipping Costs and Errors
A key factor in WrestlingMart being able to reduce shipping errors was ShipHawk's direct integration with their ERP, NetSuite. WrestlingMart's CTO summarizes it best, "When you select ShipHawk and are doing consumer-based shipping, you don't have to sacrifice functionality to get that tight NetSuite integration. You get a lot of advanced features, can generate rules, and customize your shipping the way you want it without having to end up with some watered-down shipping solution."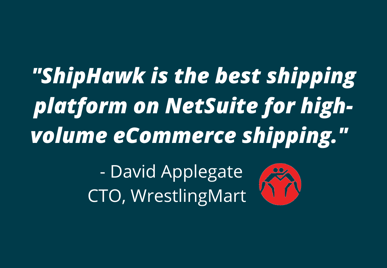 Once WrestlingMart started to solve for the shipping errors with help from ShipHawk's tight NetSuite integration, they found cost savings and greater efficiency in their overall shipping operation. Not only did WrestlingMart see an 87.27% decrease in mis-shipments and a 76.34% reduction in the selection of incorrect shipping times, but also a 35% reduction in order processing times. In addition, having that seamless NetSuite integration translated into a better user experience for warehouse employees and made it easy for new hires to learn the platform so the world's largest wrestling specialty store could continue to scale the business.
See How ShipHawk Can Help You!
ShipHawk continues to solve shipping and fulfillment challenges by seamlessly integrating with NetSuite and reducing shipping errors that lead to unnecessary shipping costs. To learn more about how ShipHawk can improve your shipping and fulfillment operation, contact a member of our team today!