What is Scan-Scan-Print?
Scan-Scan-Print is a powerful new workflow in ShipHawk that cuts down on repetitive and tedious actions that wear down warehouse employees. Once an order is packed, it will only take you a few seconds to choose a carrier, book a shipment, and print a label.
There are two key advantages that this workflow offers:
1. Automated multi-carrier rating
For single-carrier shippers: If you're only using a single carrier for all your shipments, you're not able to leverage the inherent competition between carriers; there's no point in paying more for the same level of service.

For multi-carrier shippers: If you're manually rate-shopping between carriers for each shipment that leaves your warehouse, we promise that there's an easier way. Just tell ShipHawk which carriers you like to work with and under what conditions, and we'll decide the best carrier for each shipment.
2. Eliminating human error when measuring/weighing packages
Accurate shipment dimensions and weight are critical to ensure that:
You're not paying too much, and

You're not paying too little. (This will trigger a rebill, where you'll have to waste extra time reshipping the same package - not to mention a shipping delay for your customer)
How do I use Scan-Scan-Print?
The basic premise of SSP is to make the shipment rating and booking process as quick and efficient as possible. This workflow works especially well for parcel shipments. As the name implies, there are really only three steps.
Watch our quick video, "How to use scan-scan-print" to see it in action. The steps are also listed out below:
(0. Prep) - Click into the orders tab at the top of the webpage, then click into any one of your orders. This step just makes sure that ShipHawk is paying attention when you scan a barcode.
1. Scan - Once ShipHawk is displaying an order, scan the order that you would like to ship from your order list. You'll see your screen automatically refresh with the order that you just scanned.
2. Scan - Place the package on your connected scale or dimensioner, and then scan the box barcode. As soon as you scan, the weight and dimensions are updated for that particular order in ShipHawk.
3. Print - The final step isn't really a step at all. If there aren't any problems with the origin or destination addresses, the order is booked with the best* carrier for that particular shipment. Once the shipment is booked, your label printer will automatically produce a label for that shipment.
*ShipHawk's powerful multi-carrier rating system ensures that you always get the best carrier for individual shipments. Without any user-specified rules, this will work based on shipment price (always choosing the lowest bid), however, a much finer level of control is also available for those that don't always want the cheapest option (as cheaper carriers often come with higher breakage rates).
Getting set up to use Scan-Scan-Print:
Materials needed:
Barcode Scanner

USB connected scale or dimensioner

Thermal label printer

ShipHawk account

> Try it out for free!
In order to use SSP, we need to make sure that all of these systems are integrated and communicating with ShipHawk. Most of this will be configured from the ShipHawk settings page: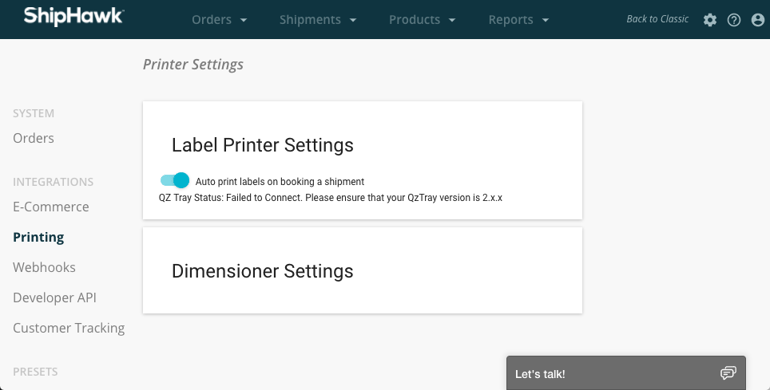 The first setting that needs to be adjusted is simply a switch in your label printer settings. Make sure that "Auto print labels on booking a shipment" is turned on.
Barcode scanner: This should be the easiest of the three pieces of hardware that you need to connect. Plug the USB cable into your computer, and you should hear it beep! All done.
Thermal label printer:
The following video will show you how to connect your thermal label printer to ShipHawk.
Dimensioner:
The following video will help you learn how to connect your dimensioner to ShipHawk.
If you're still having trouble getting set up to use scan-scan-print, call ShipHawk support at (805) 335-2432 or send an email to support@shiphawk.com. We'd love to hear from you!